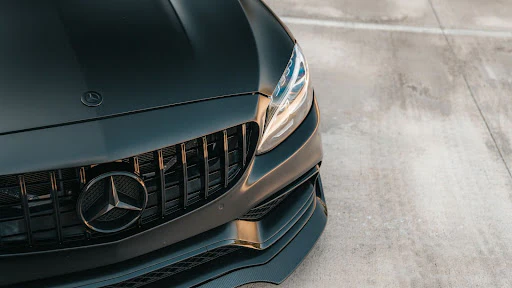 When you own a foreign luxury car, you want to make sure it stands out from the crowd. There's nothing like cruising around town in the classiest whip you can find. But let's face it, chrome can be a bit of an eyesore, especially when you're trying to add some personality to your ride. If you're ready to take your foreign luxury car to the next level, then a chrome delete might just be the perfect solution! Here's what you need to know about chrome delete.
WHAT IS CHROME DELETE?
Chrome delete is the process of painting the body of your car to remove any chrome accents or trim. While chrome is often a stylish addition to your ride, it can look a bit dated, especially on foreign luxury cars. By replacing chrome with a color or texture that matches the rest of your car's body, you can take your car's style to new heights. From basic changes to more elaborate designs, the chrome delete can give your foreign car the full bespoke luxury makeover it deserves.
BENEFITS OF CHROME DELETE
Whether you're looking to spruce up the look of your existing luxury car or you're shopping for a new ride, Chrome Delete Service offers some undeniable perks. From an aesthetic standpoint, it takes your luxurious driving experience to the next level with sleek and stylish designs that could make even the most discerning auto enthusiast jealous.
Beside the obvious aesthetic improvement it can bring to your car, chrome delete offers a number of benefits for foreign luxury cars. For starters, it can help reduce sun glare when you're driving. Chrome is highly reflective, which means it can create unwanted glare in your car, making it difficult to see. Removing the chrome accents can help reduce glare and make for a more pleasant driving experience. It can also improve the aerodynamics of your car, which means you can get a better fuel economy and an improved performance overall.
TAKE IT TO A PROFESSIONAL
If the idea of tackling this project yourself is too daunting, then you can always take your car to a professional chrome delete specialist. They will be able to do the job quickly and efficiently, so you can get back to showing off your car as soon as possible.
Chrome delete is an easy and effective way to upgrade the look of your foreign luxury car. Whether you choose to do it yourself or hire a professional, you can be sure that yours will be the slickest ride around. So don't wait any longer – give your luxury car a chrome delete and take it to the next level!
TPT FOREIGNS: YOUR TICKET TO BESPOKE LUXURY
A luxury car truly defines the glamour and sophistication of a fashionista. But with the large selection of chrome accessories and other features that manufacturers choose to spruce up the look of their vehicle, it can be challenging to create a personal touch. If you're a Miami native who wants to bring your own touch of luxury to your car, then a TPT Foreigns chrome delete service could be the perfect solution.
THE CUSTOMIZATION PROCESS
When it comes to achieving the best luxury car customization in Miami, TPT Foreigns is the way to go. By transforming every part of your car from bumper to bumper, you can enjoy a completely unique look that's sure to turn heads wherever you go.
For a truly personalized look, the customization process begins with a consultation, which enables our technicians to identify each customer's individual needs and preferences. This consultation not only allows us to tailor your car's design to fit your specific style but it also allows us to explain the design process in detail.
At TPT Foreigns, we understand the need for high-quality service and employ only the most experienced professionals to provide it. Every member of our team is highly knowledgeable and dedicated to giving you the best possible service. After completing the chrome delete service, our team is available to answer any additional questions or address any other concerns you may have.
Give yourself a treat and start the bespoke luxury makeover your car is begging for. Get in touch with TPT Foreigns today and let your car make the ultimate fashion statement.