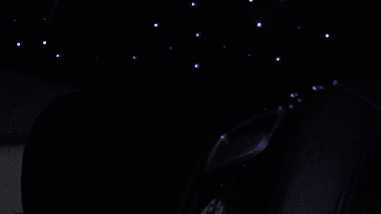 Adding some pizzazz to your ride shouldn't require a hefty price tag. One of the easiest and most affordable ways to add some glitz and glamor to the inside of your car is a starlight headliner. Not only does it look simply mesmerizing, but you'll also gain a few other benefits in the process. Here's what you need to know about installing a starlight headliner and why so many car buffs swear by it when (literal) stars are in their eyes.
WHAT IS A STARLIGHT HEADLINER?
Put simply, a starlight headliner is a light-up interior for the car's headliner. The headliner is the fabric panel located between the top of your car's windows and its roof. While this material may be nothing more than basic black or gray in stock form, you can use a starlight headliner to transform the look of your ride's cabin.
Flexible LED Clear Strips. Starlight headliners are created using a set of flexible LED clear strips. The strips contain long-lasting, slim bulbs capable of emitting a bright white, bluish-white, or custom-tinted glow. Each color is adjustable to the desired brightness, plus the strips can be connected in several patterns such as a star pattern or even a unique design.
A Dramatic Upgrade. Installing a starlight headliner has a dramatic effect – and can easily transform the look of your car's interior from ordinary to extraordinary. With the flip of a switch, you're now in sole possession of an elegant looking vehicle, complete with its own starry night sky. The finished product is captivating and enough to make even the haters out there to tip their hats in admiration.
Safety Features. It's called a starlight headliner, but its safety benefits shouldn't be overlooked. The dedicated lights create an illuminated cabin, allowing you to see better when driving at night or during dark conditions. This is especially beneficial for those who are regularly taking trips after the sun sets or at the break of dawn.
Affordable Installation. While the aesthetics of a starlight headliner is undeniably attractive, affording it doesn't demand an excess of cash. The kits are easy to install for anyone who has a basic understanding of automotive wiring. And depending on your insurance carrier, installing a bright starlight headliner may even entitle you to a discount for being proactive about safety and providing greater visibility for you and your passengers.
ACCESSORIZE AWAY
Beyond the headliner, LED accessories are also available to spruce up your car's interior. You can line the foot-wells with LED strips, install RGB color-changing LED lights, or really go all out with a custom 4-piece LED underdash kit. However, the headliner is definitely the crown-jewel in the LED accessory space, and is the perfect place to start when looking to light up the night.
When you want a spectacular-looking car without blowing your budget, a starlight headliner is a great place to start. Captivating, stylish, and multi-functional all at the same time, this is how you can up the ante and impress your buddies with the intangibles of what your wheels have to offer.
SAY GOODBYE TO BORING RIDES WITH TPT'S CUSTOM STARLIGHT HEADLINER
Make your ride shine bright with TPT Foreigns' Starlight Headliner Installation Service in Miami. Transform your outdoor drive with a dazzling ceiling display of stars that will light up every journey.
Get ready to take your car to a whole other level with the latest in car customization. Upgrade your vehicle today with starlight headliner installation service in Miami and turn your boring rides into star-filled ones. Make every ride a party with TPT Foreigns!