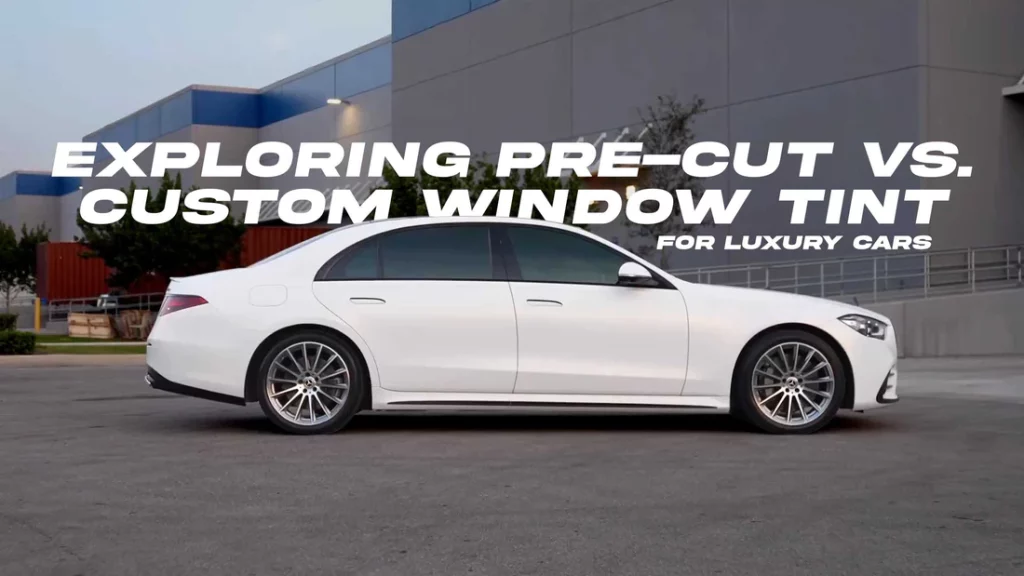 When it comes to luxury car window tinting, there are two paths you can take—using pre-cut window tints or having a custom window tint installed. Read on for a breakdown of each option, as well as a peek at how TPT Foreigns in Miami utilizes window tinting to give luxury cars the finishing touch they deserve.
What is Pre-Cut Window Tint?
For those unfamiliar with pre-cut window tint, this hassle-free option involves the seller precutting tint into the exact shape and size of the automobile's windows. This makes installation simple while ensuring that the tint looks neat and uniform. However, pre-cut window tints are not suitable for all car windows, with perfect fitting being dependent on the exact shape and size of the windows.
What is a Custom Window Tint?
Instead of pre-cut tint, custom window tinting involves having a professional cut and fit the tint to a car's windows. Due to this, custom window tinting will have a better fit, offering a snug and smooth look—particularly around the corners. Furthermore, custom tint is a great option for those who desire a tint with specific specs. In short, custom window tinting can make a car look just the way the buyer wants.
The Long-Lasting Benefits of Custom Window Tinting
Custom window tinting can be an excellent way to upgrade the look of a vehicle, reduce glare and heat, and even improve energy efficiency, but one of its most enduring benefits is the long-lasting nature of the product. Depending on the type of film used and the quality of installation, most could last for years without needing replacement. For those looking to invest in a product that can offer long-term protection, custom window tinting is a great option, offering all the benefits mentioned above and lasting significantly longer than many other aftermarket items.
The Precision of a Professional Custom Window Tinting
Professional custom window tinting is a great way to customize your vehicle with a unique look that sets it apart from the crowd. This process is done by applying a thin film to the inside of the windows that alter the light that comes through and helps protect from UV rays. This film can be tinted to your desired level, as each installer has custom equipment to suit whatever design you are looking for.
It is important to contact a reputable installation shop as it requires precision and experience to get a quality job. They will work with you to create the perfect look, which may involve some trial and error. After deciding which film you want, the installer will complete the job, usually within a few hours. Overall, professional custom window tinting is a great way to get a unique look that is sure to make your car stand out in a crowd.
Save Time and Money with Professional Custom Window Tinting
If you want to save time and money, professional custom window tinting for your luxury car should be one of your top priorities. Window tinting adds style and privacy to your vehicle and can also provide invaluable protection from the sun's ultraviolet rays. Professional window tinting installations offer an easy way to upgrade or customize the appearance of your vehicle and enjoy all the benefits that it can offer.
You'll be able to save time and money by having the work done by a professional. Not only will they provide a quality installation, but they'll also get the job done right the first time, saving you money in the long run. Plus, you'll have peace of mind knowing that your vehicle windows are properly shielded from the sun's harmful rays. Get the most out of your luxury car by investing in the highest quality professional custom window tinting.
TPT Foreigns in Miami: Doing It All
With the debate between pre-cut and custom window tinting in mind, it's appropriate to showcase when it pays to go custom. At TPT Foreigns in Miami, all luxury car window tinting has a custom touch. This allows for a tint that is perfectly customized to fit the needs and tastes of each and every customer. Even if you can find pre-cut window tint for your vehicle, TPT Foreigns can provide more flexibility and choice by allowing you to really perfect the look of your car.
At TPT Foreigns, all window tints are installed using the latest tools and techniques, with a window technician personally testing each tint once complete. The result is a job that is both accurate and perfect, achieving those seamless window tints that look both consistent and stylish.
At TPT Foreigns in Miami, custom window tinting has never been easier. With our commitment to quality, customers have nothing to lose and only a unique look to gain. So, don't hesitate to visit the professionalism at TPT Foreigns and check out the perfect custom tint we have to offer your luxury car.
Pre-cut vs. Custom Window Tint for Luxury Cars is definitely worth considering when protecting the interior and reducing the temperature of a vehicle. Factors like cost, ease of installation, and an overall finished look should all be taken into account before making a final decision. The best choice may even be to utilize both pre-cut and custom tints, depending on the situation and the desired effect. No matter the choice, either option will provide a luxurious look, greater privacy, and much-needed protection from the sun's damaging UV rays.
Be sure to check out our blog post: Custom Window Tint For Your Foreign: A How-To Guide For Getting It Right, for more detailed information on custom window tints for foreign rides!