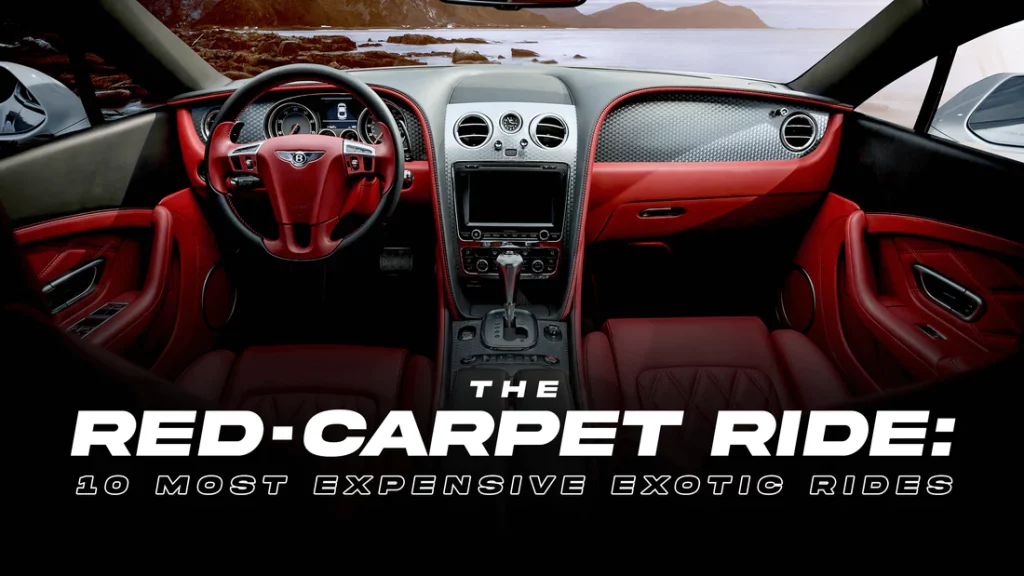 It's no secret that luxury cars are serious status symbols these days. From sports cars that turn heads on the street to classic limos, VIPs want the cream of the crop when it comes to their ride. We've scoped out the most expensive and luxurious cars in the world. Here are 10 of the most exclusive, eye-popping rides money can buy.
1. Lamborghini Veneno Roadster
Let's kick things off with the Lamborghini Veneno Roadster. This exotic beauty set the bar for performance and exclusivity. With only nine of these cars ever made, it's no wonder why the Veneno Roadster is so sought after. Not only does this mean it's highly rare, but it's also incredibly expensive. The Lambos' $4.5 million price tag is enough to give any car buff whiplash.
2. Koenigsegg CCXR Trevita
The Koenigsegg CCXR Trevita is the Bugatti Veyron's biggest rival. It's just as powerful as its competitor and is said to be even quicker at taking the corner. The exterior of the car is covered with a special diamond weave carbon fiber. Because of this, the car is so rare and expensive that it's said to cost around $4.8 million.
3. Bugatti La Voiture Noire
Just recently, the team at Bugatti unveiled the highly rare La Voiture Noire. Bugatti raised the bar for sophistication and sleekness with this one. It's said to be the most luxurious Bugatti ever made and was custom-built for the car manufacturer's founder. The entire car is dressed with real carbon fiber and touches of polished aluminum. The car's price is considered to be a state secret, estimated at around $19 million.
4. Mercedes-Maybach Exelero
For those looking for a more exclusive ride, the Mercedes Maybach Exelero may be the right choice. This car looks like something straight out of a sci-fi movie. It's said to have 700 horsepower and is equipped with night vision. The car is also equipped with flared wheel arches and 24-inch alloy wheels. The Exelero is so rare it was featured in a hip-hop video in 2004. The car is estimated to cost $8 million.
5. Lamborghini Sesto Elemento
The Lamborghini Sesto Elemento is what happens when engineering and design skills come together. First unveiled at the 2010 Paris Motor Show. It features a 5.2-liter V10 engine, producing 570 HP and a 0-62mph time of 2.5 seconds. The car is built using a lightweight combination of carbon fiber, Kevlar, and aluminum, bringing the total weight to 999 kg. The exterior has a modern design, with a rear spoiler, adjustable suspension, and carbon fiber wheels. The interior is minimalist, with a digital climate control system, a multimedia system, and a carbon fiber dashboard. Its sleek design and powerful presence make this car worth its hefty $2.7 million price tag.
6. Bugatti Chiron
The Bugatti Chiron is a revolutionary car that other auto manufacturers should be envious of. Its advanced design and engineering are said to be so precise and powerful the car produces an insane 1,500 horsepower and 1,600 Nm of torque. Its 0-62 MPH time is said to take only 2.4 seconds. With all this power, the car comes with a hefty $3 million price tag.
7. Ferrari Pininfarina Sergio
Ferrari is one of the most iconic car brands in the world, and their cars have a cult following that's second to none. Their limited-edition Pininfarina Sergio is sought after for its simple design and unmistakable peachy red hue. It's equipped with a Ferrari V8 engine and all the proper modern luxuries. The estimated price for this vehicle is around $3 million.
8. Aston Martin Valkyrie
The Aston Martin Valkyrie is said to be the car of the future. It's equipped with a mid-mounted V12 engine that will take you from 0 to 60 MPH in 2.6 seconds! The car also features a sleek exterior that is exquisitely crafted with an Aston Martin logo at the end of its hood. The price of this ultimate ride is estimated to be up to $3.2 million.
9. Pagani Huayra BC
The Pagani Huayra BC is a luxury car that is loaded with power and performance. It's equipped with a 730-horsepower twin-turbo V12 engine that produces a maximum torque output of 738 lb-ft. The car also has a unique exterior made of aluminum, titanium, and carbon fiber. The Huayra BC goes for $4 million.
10. Zenvo TS 1 GT
Last but certainly not least is the Zenvo TS 1 GT. Its exterior is adorned with butterfly doors, a side exit, and loud dual exhausts. The car features a 5.8L V8 engine with 1,163 horsepower, making it the most powerful production car of its time. All this power comes with an eye-popping price tag of $1.2 million.
When it comes to VIPs, they all want the most exclusive, eye-catching ride on the street. These cars from Bugatti, Lamborghini, and other automobile makers don't come cheap, but they are worth it for those with the means. Get set to drool over these 10 most expensive exotic rides, perfect for the star-studded luxury lifestyle.
Are You the Proud Owner of an Exotic Car? Make it Truly Unique with TPT Foreigns in Miami!
TPT Foreigns has everything you need to make your exotic car personalized to your style and specifications. Let our team customize your luxury car with the highest quality parts and superior craftsmanship for the dream ride you've been longing for. Request an appointment with our Miami team to turn your unforgettable dreams into reality!
If you're looking for some creative ideas to add a personal touch to your luxury car, you should definitely check out our blog post: Knockout Customization: TPT Foreigns Bring Out The Best In Your Luxury Car.