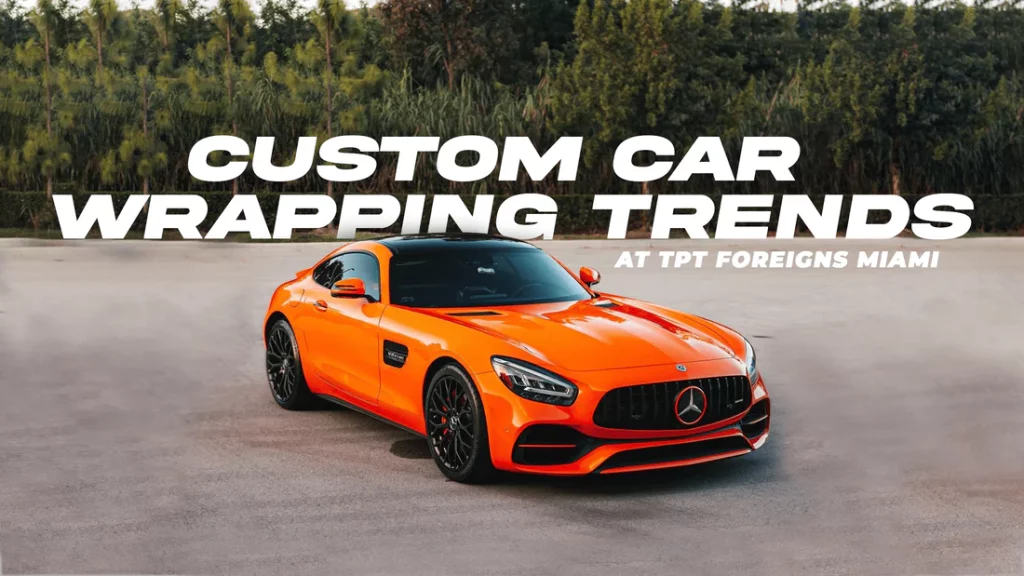 In the foreign car customization game, you no longer have to go for a wild paint job that could costs thousands. Instead, foreign car wrapping is the trend that's all the rage, not just in Miami but all over the country as well. Whether it's for aesthetic purposes or protection from the elements, there's no reason why you shouldn't invest in a custom car wrap.
With a variety of colors, finishes, and textures to choose from, you can give your car a unique look that is sure to turn heads. A custom car wrap also helps protect your car's paint job from fading or damage caused by the sun, rain, and other elements while providing a layer of protection from minor scratches, chips, and dirt. And with the right care, a custom car wrap can last up to five years and could even increase the resale value of your car.
Here are the latest foreign wrapping trends at TPT Foreigns in Miami that any foreign car fanatic should know.
What Are The Different Types Of Car Wraps Finishes?
It's no exaggeration – having a sick wrap on your ride will get you some serious street cred. It's actually pretty simple to go from ordinary to extraordinary, but it all starts with selecting the right type of wrap finish. Here are the different types of custom wraps available at TPT Foreigns in Miami, so your ride can become one-of-a-kind
Matte Wrapping: Add Some Class to Your Ride Matte car wraps continue to be popular, and there's no better way to show you're staying up with the times than with a matte wrap. Your car can have that sleek look with these type of wraps, and they're incredibly easy to customize to your own personal preference. the variety of colors you can choose from gives you endless possibilities. Plus, if you're the type who likes to switch up the looks of your foreign often, a matte wrap can easily be removed without causing any paint damage.
Chrome Wrapping: Shine Like You Mean It Chrome wrapping is also having a moment because it offers a unique and stylish way to customize foreigns and other vehicles. In addition to protection against the elements, chrome wrapping gives your foreign a glossy, Chrome look that is sure to turn heads. It also adds a depth to the visuals of your ride, making it look even more luxe.
Vinyl Tool Wrapping: Get That Factory Look Vinyl tool wrapping is fairly new but quickly becoming one of the hottest trends at TPT Foreigns. It is a way to customize the look of your foreign with vinyl that looks like factory-painted details and trims. Whether you're looking for stripes, accents, and more, vinyl tool wrapping gives your car that factory-approved edge.
Satin Wrapping: Make Your Car Shine like Never Before Do you want to take your ride to the next level? Satin wrapping is the perfect way to customize your vehicle and get noticed. This sleek and stylish approach has taken the auto-customization world by storm, and it's easy to see why. With satin wrapping, you can create wild and unique designs that perfectly fit your look and style. You can personalize your ride in ways you never thought possible. The durable and resilient nature of satin wrapping ensures your custom designs will last for years to come. Go big and bold, or keep it clean and classic – no matter your preference, satin wrapping will have your ride looking fly in no time.
Textured Wrapping: Add an Elbow Grease Touch For those who want to make a bold statement with their foreign car wrapping, textured wrapping might be the way to go. There are many options out there several, including carbon fiber and brushed aluminum. Textured wrapping can mask the imperfections of your foreign while also making it stand out in a good way. You can also customize and combine textures to individualize the look of your vehicle even further.
With all these new wrapping trends out there, a little elbow grease and a bit of creativity is all you need, and your foreign will be ready to turn heads and make a lasting impression.
Lookin' Fresh With the Hottest Custom Wrapping Trends
When it comes to customizing your car's look, nothing can "wrap" it up quicker than a custom car wrap. Whether you want to make a statement about your ride, your style or just show your creative side, car wrap theme trends offer plenty of options that will get you from 0 to 100 real quick.
Making a Statement With Bold Colors There's no better way to make your car stand out than with a bold color car wrap. Classic looks such as solid colors, bold stripes, and unique textures look great on any type of ride, and they create an eye-catching look that's sure to draw attention. Whether you're a fan of classic black, yellow and white aesthetics or prefer a wild, vibrant look, having a custom wrap done with bold colors is the perfect way to create a look that's nothing less than outstanding.
Mimicking Camo and Animal Prints Camo and animal prints (like the classic leopard print) have been popular for a number of years and are still going strong. If you're looking for a bold, classic look, you can't go wrong with customizing your car with a camo or animal print wrap. These type of wraps are highly versatile and look great no matter what kind of car you have. Additionally, they breathe new life into any ride, giving it an all-new look that's sure to turn heads.
Personalizing Your Ride With Decals Don't want to go with a full wrap? No worries, you can also get creative with customizing your ride by adding decals. These are great for adding a touch of personality to any ride, as you can give any type of car a totally unique look in no time. From crazy graffiti-inspired decals to decals of your favorite superheroes, you can truly give your car ride its own distinct look that truly expresses your personality.
Going Big with Big Graphics Lastly, if you want to make a statement that's sure to turn heads and get people talking, a big graphics wrap is your best bet. These wraps look great on any car, and they offer plenty of opportunities to make the car look unique and eye-catching. From classic "old-school" looks to graphics inspired by your favorite sports teams or cultures, you can truly make your car stand out from the crowd.
Revolutionize Your Ride with TPT Foreigns' Custom Wrapping Designs
Are you ready to take your ride to the next level? With TPT Foreigns, you can have custom car-wrapping the design of your dreams! Whether you're looking to make a statement or just spruce up a classic look, TPT Foreigns has all the cutting-edge materials and expertise to give your car a complete makeover. Work with our team in Miami to bring your vision to life and create the perfect design for your car. Get ready to ride in style and show off your ride with TPT Foreigns!
From bold colors and classic camo designs, to big graphics and matte looks, there's a slew of custom car wrapping trends to choose from for your ride. Which one will you choose?