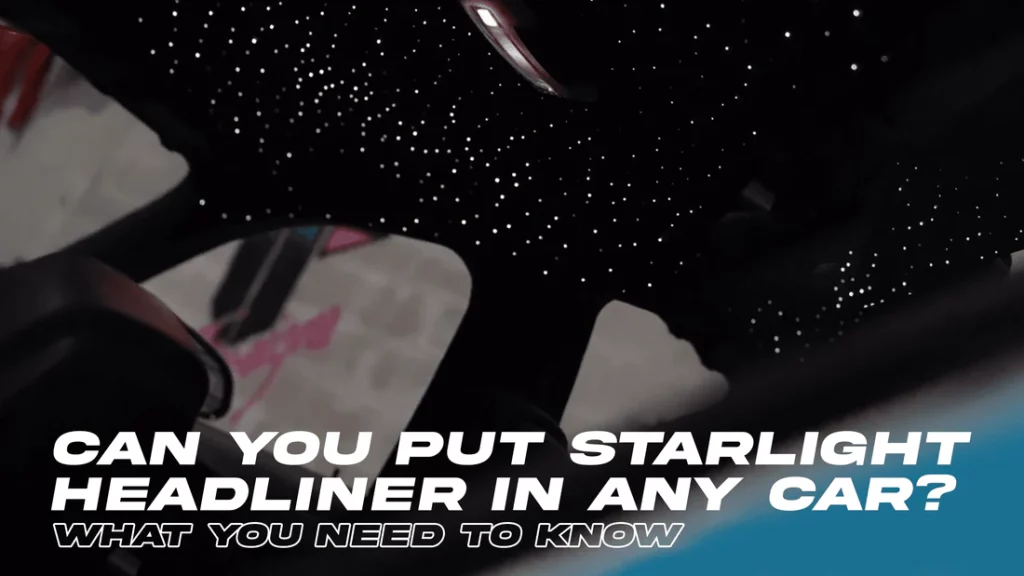 Are you thinking of sprucing up your ride with a new headliner? If you have been eyeing the stylish seat coverings that can be found in high-end cars, you may have stumbled across the dazzling and distinctive starlight headliner. But before you take the plunge and get these chic yet expensive interior filters fitted in your car, there are a few things to consider.
What Is a Starlight Headliner?
A starlight headliner is an interior feature that has become increasingly popular in high-end cars. Unlike traditional upholstery, fiber optics are placed throughout the headliner, creating a sparkling effect with twinkling lights resembling stars in the night sky. It's a feature that can turn any car into something special.
When Can You Install a Starlight Headliner?
Whether or not installing this eye-catching addition is possible will depend on whether your vehicle has existing fabric or leather upholstery and if there is enough room behind the headliner for installation. If space is limited, attempting to put one in could be nearly impossible – but if all goes according to plan and there's plenty of room within limitations, then the job may just be feasible—with some patience and dedication on your part!
How Expensive Is Installing a Starlight Headliner?
The cost of installing one of these features will vary depending on several factors such as brand name preference, type of upholstery used (fabric vs. leather), and if any custom cutting/design needs to be done. Exact prices may differ from place to place, so it is best to schedule an appointment with us at TPT Foreigns in Miami so we can give you an accurate estimate of the cost of starlight headliner installation for your foreign ride.
Where Can I Get My Starlight Headliner Installed?
If you're thinking about getting one of these chic features installed in your car, TPT Foreigns Miami is your best option! Not only are we composed of experienced professionals within this field—from installing more basic solutions as well as complete customizations—but we also offer affordable rates coupled with exemplary customer service making us the top choice when it comes time for upgrades!
A Starlight Headliner is an exciting feature for car enthusiasts who are looking for a unique, eye-catching design element for their vehicle. It provides a luxurious experience without busting your budget. Installing starlight headliner costs may differ depending on the size and complexity of the project, but the end result is worth every penny.
Be sure to check out our blog post on "Sparking it up: Installing a Starlight Headliner and its Benefits"
Introducing TPT Foreigns: Miami's Premier Destination for Foreign Car Customization!
Take your ride to the next level with TPT Foreigns – a Miami-based custom car shop that specializes in foreign car customization. Turn heads with a Starlight Headliner, wraps in any color you choose, window tinting, chrome delete, and more! We offer unbeatable prices and exceptional service. Don't wait any longer – visit TPT Foreigns in Miami today and transform your ride into the street machine of your dreams!