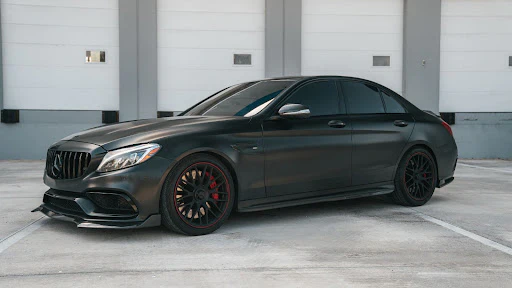 Forget paint jobs, a custom wrap can give your car a whole new style! Custom vehicle wraps are a great way to make a statement, boost your ride's aesthetic, and give you a unique look on the road. Whether you're aiming for a sleek, minimalist finish or a fun, eye-catching design, there's a wrap to fit your style. Let's take a look at the benefits.
EASE OF INSTALLATION
TPT Foreigns, a leader in the foreign car customization industry in Miami, offers custom wrap installation services. From pick up and delivery at the shop to professional installation and fitting for a perfect fit, our service makes it easier than ever to give your car a new look.
DURABILITY & QUALITY
Vehicle wraps from TPT Foreigns are made from the highest-grade materials available, so you can count on them to last. The materials are also top-notch when it comes to quality and ease of cleaning, so you won't have to worry about losing your new look to damage or wear.
MIX & MATCH WRAPS FOR A ONE-OF-A-KIND LOOK
Mixing and matching wraps is the perfect way to customize your car and make it stand out. Whether you want to go wild with clashing colors, or opt for a subtle yet sophisticated look, the possibilities are endless.
FULL PAINT PROTECTION
Wrapping your car will not only improve your ride's style, but also protect it from the elements. You won't have to worry about fading, sun damage, or scratches on the paint anymore – just give it a quick rinse every now and then, and you're good to go.
WRAPS ARE REMOVABLE
Sometimes you may want to go back to the original look and feel of your car. Don't worry, that's no problem! TPT Foreigns offers wrapping services with removable materials, so you can easily switch back to your original look whenever you want, no problem.
GETTING THE LOOK YOU WANT
When it comes to vehicle customization, you should always go with a professional company like TPT Foreigns. We have years of experience in the industry and have a range of durable, quality materials to choose from. With our team's help, you'll be able to get the look you desire for your ride.
WRAPS ARE PERFECT FOR ANY BUDGET
Vehicle wraps can suit any budget, so you don't have to break the bank to get a new style. From full-body wraps to partial wraps and accents, you can get as creative and wild as you want without worrying about the budget.
GIVE YOUR FOREIGN A FRESH LOOK WITH EYE-CATCHING CAR WRAPS
If you're looking to optimize your ride and stand out from the pack, you'll definitely want to consider getting a foreign car wrap. Whether you drive an import coupe, or a European-style luxury sedan, a unique, eye-catching wrap is the perfect way to customize and personalize your vehicle.
Today's wraps come in a range of materials, designs and styles to fit any foreign car. From sleek metallic graphics to intricate patterns and abstract designs, there's no limit to how you can make your ride stand out.
For a classic, timeless look that won't age, check out the carbon fiber wraps. English drivers swear by these light yet durable wraps, which lend a professional look and feel to any car.
If you're looking for something a bit more daring, there are plenty of matte options to give your ride a sleek, modern look.
You can also opt for white or black glossy wraps to really turn heads.
If you're a trendsetter, you'll also appreciate the bright, vibrant wraps out there for foreign cars. From neon-inspired designs to sharp graphics, geometric shapes, and everything in between, there are plenty of exciting wraps to make your ride stand out from the rest.
For the true show-stopping Euro look, you'll definitely want to explore the crazy wraps out there. From paisley designs to full-car cartoons, there are plenty of wraps available that will get you noticed wherever you go.
Keep in mind that when it comes to foreign wraps, customization is the name of the game. TPT Foreign offer custom wraps, so you're sure to find a design that perfectly matches your taste.
So if you want to keep it classic, unleash your inner artist, or go full show-stopper, you'll find no shortage of foreign car wraps to choose from. With the help of TPT Foreigns, you can transform your car into a true reflection of your personality. Enjoy your new ride!