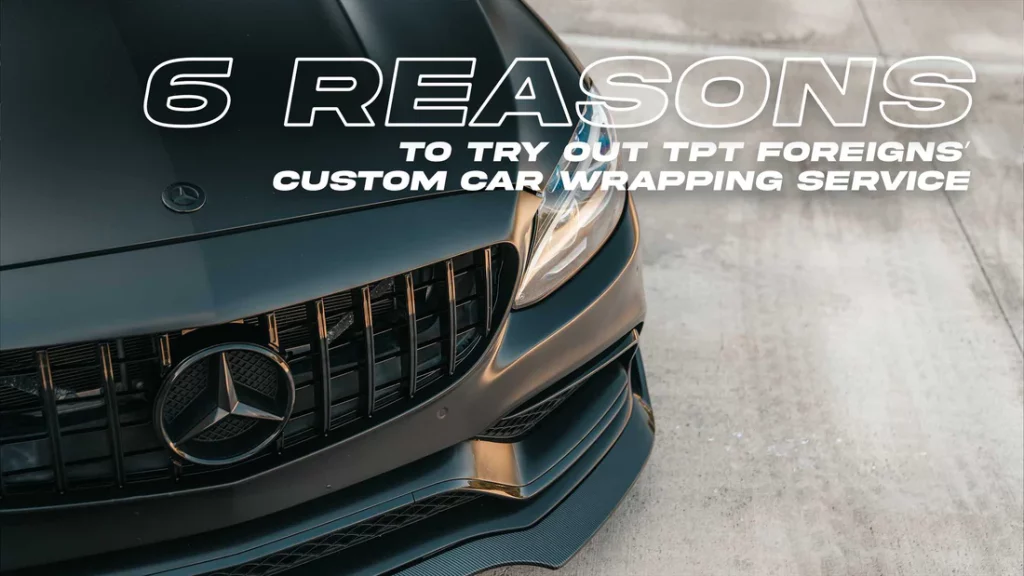 If you're looking for an awesome way to spruce up your ride, you've gotta check out TPT Foreigns' custom car wrapping services. Serving Miami and beyond, we guarantee absolute customization and quality blowout prices. Here are 6 reasons you should give our car wraps a shot.
Countless Design Options: Whether you want to customize your car with a vivid painted look or you're trying to make a statement with bold graphics, TPT Foreigns has you covered. With more than 100 patterns and design combinations, you can express yourself exactly how you want to!
Turn Heads with Unique Colors: On top of their extensive library of pre-made wraps, you can request custom colors of your choice that are sure to make your musical statement. Have TPT Foreigns paint your whip millennial pink for that extra bit of Pinterest-worthy flair.
Keep 'Em Looking Fresh: Once you have the wrap of your dreams, you don't have to upgrade it every year. Thanks to their weatherproof and dirt-resistant film, your ride will stay looking fresh no matter the weather conditions.
Go Greener, Faster: Did you know? Wrapping your car with TPT Foreigns grants you the power of the wind! That's right – their aerodynamic wraps have the potential to give your car improved aerodynamics by reducing drag on the road. Less friction means less fuel and more money saved in the long term.
Protection from Wear & Tears: We all know how gnarly the Miami roads can be. TPT Foreigns' wrap is specially designed to guard against peeling, fading, denting, and chipping from road debris to keep your car looking pristine.
Quality Guaranteed: When you get your car wrapped at TPT Foreigns, you won't have to worry about faulty results or shoddy workmanship. An experienced team certified with 3M™ Graphic Solutions stands behind their work and is always ready to help.
If you're looking to learn more about TPT Foreigns' custom wrapping service, be sure to check out our blog post: Change The Look Of Your Vehicle With A Custom Wrap.
So, iIf you're hoping to make a statement and create a unique style, TPT Foreigns' custom car wrapping service is the perfect choice!
Make Your Miami Rides Stand Out with TPT Foreigns Car Customization Services!
Bring your Miami car to the next level with TPT Foreigns' custom car wrapping service! With TPT Foreigns, you can choose from bright and bold designs or subtle and sleek styles to make your Miami car look unique and stylish. You can also customize your ride with other services such as window tinting, wheel modifications, and much more. From classic cars to luxury vehicles, TPT Foreigns can help you make your Miami ride stand out from the rest in no time. Get ready to turn heads and make a statement with TPT Foreigns!