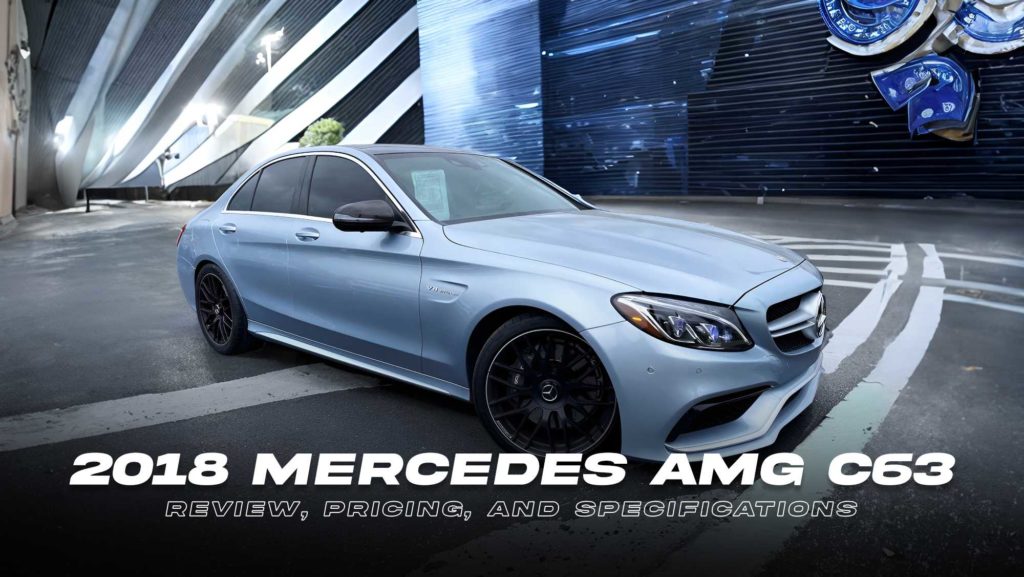 Ever had that dream where you're cruising down an open highway, the roar of a powerful engine in your ears, and luxury at your fingertips? Now, imagine that dream coming to life with the 2018 Mercedes AMG C63. 
This car isn't just a vehicle; it's an experience, a statement, and a lifestyle. You might ask, "What makes this car so special?" Well, buckle up, because we're about to take you on a thrilling ride through the ins and outs of this automotive marvel.
Exterior Design and Features
The 2018 Mercedes AMG C63 is a sight to behold. Its sleek lines and aerodynamic shape exude a sense of speed and power, even when it's standing still. The front end is dominated by the signature AMG radiator grille, giving it a bold, aggressive look. The LED High-Performance headlamps not only provide excellent illumination but also contribute to the car's overall aesthetic appeal.
AMG Body Styling:

The car's body styling is unmistakably AMG. It features a front apron with sporty air intakes, a rear diffuser, and two twin tailpipes that hint at the beast under the hood.

Alloy Wheels:

The 2018 Mercedes AMG C63 comes with 18-inch AMG 5-spoke light-alloy wheels that perfectly complement its athletic stance.

Panoramic Sunroof:

Adding a touch of elegance, the panoramic sunroof can be tilted or slid open, allowing passengers to enjoy open-air comfort.

AMG Night Package:

This optional package adds high-gloss black elements to the exterior, emphasising the car's sporty character and creating a striking contrast with the paintwork.

LED Tail Lights:

Stylish and functional, the LED tail lights ensure optimal visibility, making a strong impression on those left in the car's wake.

Power Folding Mirrors:

These mirrors automatically fold in when the car is locked, protecting them from damage while parked. They also feature an auto-dimming function that reduces glare from vehicles behind.
The 2018 Mercedes AMG C63 is a true embodiment of power and elegance. Its sleek contours, aerodynamic design, and signature AMG radiator grille speak volumes about its performance capabilities, even at a standstill. From the high-performance LED headlamps to the distinctively AMG body styling, every element contributes to a commanding presence. 
The dynamic alloy wheels, panoramic sunroof, and optional AMG Night Package add layers of sophistication, while functional features like LED tail lights and power folding mirrors offer practicality without compromising on style. In essence, the exterior design and features of the 2018 Mercedes AMG C63 perfectly encapsulate the fusion of performance and luxury that the vehicle represents.
Interior Design and Comfort
Step inside the 2018 Mercedes AMG C63, and you'll be enveloped in a world of luxury. The interior is a blend of high-quality materials, ergonomic design, and cutting-edge technology, all aimed at providing the ultimate driving experience.
AMG Performance Seats:

These seats are not just designed for comfort but also offer significant lateral support when you're pushing the car to its limits.

Leather Upholstery:

The seats, dashboard, and door panels are all covered in premium leather, creating an atmosphere of opulence.

Ambient Lighting:

With 64 colors to choose from, the ambient lighting sets the mood and adds a touch of sophistication to the interior.

Dual-Zone Automatic Climate Control:

This feature allows both the driver and passenger to set their preferred temperatures, ensuring a comfortable ride no matter the weather outside.

Heated Front Seats:

For those colder days, the heated front seats offer added comfort, warming up quickly to provide immediate relief.

Multifunction Steering Wheel:

Wrapped in Nappa leather, the steering wheel offers easy access to audio controls, gear selection, and cruise control, ensuring a focused and convenient driving experience.
The AMG C63 doesn't just cater to the driver; it ensures comfort for all passengers. With generous legroom and headroom, even longer journeys become a pleasure. And let's not forget about practicality – the trunk space is ample, ready to accommodate your luggage for those weekend getaways or shopping trips
Performance and Driving Experience
Now, let's get to the heart of the matter – the performance. The 2018 Mercedes AMG C63 is powered by a handcrafted AMG 4.0L V8 Biturbo engine, delivering a staggering 469 horsepower and 479 lb-ft of torque. This translates into a 0-60 mph time of just 3.9 seconds, making it one of the fastest sedans in its class. But it's not just about raw power; the AMG C63 also excels in handling and ride quality.
AMG SPEEDSHIFT MCT 9-Speed Transmission:

This transmission system offers short shift times and quick responses, ensuring optimal power delivery at all times.

AMG RIDE CONTROL Sports Suspension:

This system allows drivers to adjust the damping characteristics at the touch of a button, ensuring a comfortable ride or a sporty, dynamic drive, depending on their preference.

AMG Performance Exhaust System:

This system offers a variable adjustable exhaust flap that lets you change the sound of the car according to your mood.
When you're behind the wheel of the 2018 Mercedes AMG C63, you're not just driving; you're commanding an extraordinary machine that responds to your every whim with precision and agility. Whether you're cruising down the city streets or tearing up the racetrack, the AMG C63 delivers an exhilarating driving experience that leaves a lasting impression.
The 2018 Mercedes AMG C63 isn't just about luxury and performance; it's also packed with state-of-the-art technology and safety features that make every drive a pleasure.
COMAND® System:

The car comes equipped with the COMAND® system, which includes a high-resolution 8.4-inch color display, navigation with 3D map views, an in-dash DVD/CD player, and voice control.

Burmester Surround Sound System:

This premium sound system delivers high-quality audio, making every song or radio station come alive.

Heads-up Display:

This feature projects vital information, such as speed and navigation instructions, onto the windshield, allowing the driver to keep their eyes on the road.
When it comes to safety, the 2018 Mercedes AMG C63 has got you covered. It features an array of systems designed to protect you and your passengers.
Active Brake Assist:

This system can help prevent accidents by automatically applying the brakes if a collision is imminent.

ATTENTION ASSIST®:

This innovative feature can detect signs of drowsiness and alert the driver, helping to prevent accidents caused by fatigue.

PARKTRONIC with Active Parking Assist:

This feature helps you find a parking space and guides you into it, making parking a breeze.
With these advanced technology and safety features, the 2018 Mercedes AMG C63 makes every journey not only enjoyable but also safe and convenient.
While the 2018 Mercedes AMG C63 is a powerhouse, it's also surprisingly fuel-efficient for a car of its class. It achieves an EPA-estimated 18 mpg in the city and 24 mpg on the highway. While these figures may not seem impressive compared to smaller, less powerful cars, they are quite respectable for a vehicle with a V8 engine pushing out nearly 470 horsepower.
It's worth noting that the AMG C63 comes with an ECO Start/Stop system. This system automatically shuts off the engine when the car is at a standstill, such as at traffic lights or in heavy traffic, and restarts it when you're ready to move again. This not only helps to save fuel but also reduces emissions, making the AMG C63 a more eco-friendly choice among high-performance vehicles.
Pricing and Specifications
The 2018 Mercedes AMG C63 is a luxury car, and its price tag reflects that. The starting price for this model is around $67,000. However, with the addition of optional features and packages, the price can easily go up.
Here are some key specifications of the 2018 Mercedes AMG C63:
Engine:

Handcrafted AMG 4.0L V8 Biturbo

Power:

469 hp @ 5,500 rpm

Torque:

479 lb-ft @ 1,750-4,500 rpm

Transmission:

AMG SPEEDSHIFT MCT 7-speed

0-60 mph:

3.9 seconds

Top Speed:

155 mph (electronically limited)
These figures demonstrate the superior performance of the 2018 Mercedes AMG C63, justifying its position as one of the most sought-after luxury performance cars on the market.
TPT Foreigns: Your Destination for Pre-Owned Luxury
If the idea of owning a luxury ride is making your heart race, but you're not quite ready to shell out for a brand-new model, we've got some good news for you. Meet TPT Foreigns, a trusted name in the realm of pre-owned luxury and exotic cars. It is our mission to bring the dream of owning a high-end vehicle within reach.
At TPT Foreigns, we understand that buying a pre-owned car isn't just about saving money; it's also about finding a vehicle that matches your style, needs, and aspirations. That's why we maintain an extensive collection of luxury vehicles. Each car in our inventory has been meticulously inspected and maintained to ensure it meets the highest standards of quality and performance.
Final Thoughts: The Iconic 2018 Mercedes AMG C63
The 2018 Mercedes AMG C63 is more than just a car; it's a testament to Mercedes' commitment to excellence in design, performance, and luxury. With its stunning looks, powerful engine, and an array of high-tech features, it offers a driving experience that only a few other cars can match.
Whether you're a seasoned car enthusiast or someone who simply appreciates the finer things in life, the AMG C63 is sure to impress. It embodies the perfect blend of power and elegance, making every drive an event to remember. 
In the world of luxury performance cars, the 2018 Mercedes AMG C63 stands out as a true icon. It's not just about getting from point A to point B; it's about enjoying the journey and doing it in style. After all, life's too short to drive boring cars.