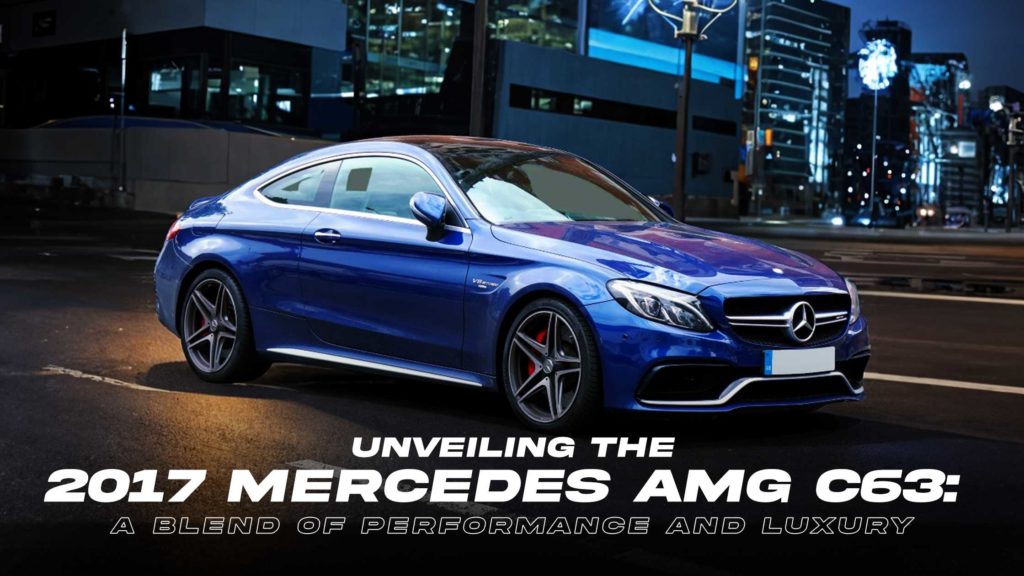 Ever dreamt of commanding a vehicle that seamlessly fuses luxury with sheer power? Picture yourself sinking into sumptuous leather seats, gripping an exquisitely designed steering wheel, and being serenaded by the deep rumble of a high-performance engine. 
Welcome aboard the 2017 Mercedes AMG C63 – where indulgence meets unmatched performance.
When it comes to performance, the 2017 Mercedes AMG C63 stands in a league of its own. This isn't just a car; it's a feat of German engineering that pushes the boundaries of what's possible in a luxury sports sedan.
Engine Specifications:

Under the hood, the C63 AMG houses a handcrafted

AMG 4.0L V8 biturbo engine

. This powerhouse propels the car from 0 to 60 mph in a mere 3.9 seconds.
Horsepower:

The engine churns out a staggering 469 horsepower, offering an exhilarating ride that will make your heart race.
Speed and Acceleration:

With a top speed of 155 mph (electronically limited), the C63 AMG is more than capable of satisfying speed enthusiasts.

Handling:

Despite its power, the C63 AMG offers precise handling thanks to its AMG RIDE CONTROL Sport Suspension. It provides the driver with three different suspension modes: Comfort, Sport, and Sport+.

Braking System:

To complement its speed, the C63 AMG features an advanced braking system. The high-performance compound braking system ensures swift and safe deceleration.
Driving the 2017 Mercedes AMG C63 is an experience like no other. Its power is intoxicating, and its handling is as smooth as it is responsive.
The 2017 Mercedes AMG C63, with its state-of-the-art features and superior performance, comes with a price tag that reflects its status. The base price hovers around $75,000. However, this can increase significantly with optional add-ons such as:
AMG Performance Exhaust System

AMG Carbon Fiber Exterior Trim

AMG Night Package
Comparatively, the C63 AMG's pricing sits comfortably with its competitors in the luxury sports sedan category. It offers excellent value for money, considering the remarkable features and performance it delivers.
Specs: For those who love numbers and technical details, here's a rundown of the 2017 Mercedes AMG C63's specifications:
Dimensions:

The C63 AMG measures 187 inches in length, 72.4 inches in width, and 56.1 inches in height.
Weight:

It tips the scales at approximately 3,924 pounds.
Fuel Efficiency:

Despite its powerful engine, the C63 AMG manages a respectable fuel efficiency of 18 mpg in the city and 23 mpg on the highway.
The 2017 Mercedes AMG C63 doesn't just impress on paper; it has garnered rave reviews from owners and critics alike.
Aesthetics:

The C63 AMG is a head-turner. Its sleek lines and aggressive stance are accentuated by its long hood and broad shoulders. Inside, the cabin is a blend of luxury and sportiness, with high-quality materials and a driver-focused layout.
Comfort:

The car offers exceptional comfort levels. The seats are plush yet supportive, perfect for both long drives and quick sprints. The ride quality, even in Sport mode, is surprisingly smooth for a sport sedan.
Technology:

Tech enthusiasts will appreciate the C63 AMG's suite of advanced features. It boasts a COMAND infotainment system with a 7-inch display, navigation, voice controls, and a Burmester premium sound system.
Safety Features:

Safety hasn't been compromised in the pursuit of performance. The C63 AMG comes equipped with standard safety features like collision prevention assist plus, attention assist, and adaptive braking technology.

Reliability:

The C63 AMG is not just about performance and luxury; it's also built to last. It boasts a solid reliability rating, reinforcing Mercedes' reputation for building durable vehicles.
The 2017 Mercedes AMG C63 is more than just a car. It's a statement, an embodiment of success and taste. Whether you're cruising down the highway or pulling up at a premium event, this car commands attention and respect.
TPT Foreign Sales: An Elite Selection of Pre-Owned Luxury Cars
At TPT Foreigns, we understand the allure of luxury cars. That's why we take pride in offering an elite selection of pre-owned luxury and exotic cars from some of the most prestigious brands worldwide. Whether you're drawn to the Italian flair of Ferrari and Lamborghini, the British elegance of Aston Martin and Bentley, or the German precision of Porsche and Bugatti, we've got you covered. And now, let's delve into how the 2017 Mercedes AMG C63 fits into our portfolio.
At TPT Foreigns, we ensure that every pre-owned luxury car we offer meets the highest standards. Our cars are meticulously inspected and serviced to provide our customers with the peace of mind they deserve. We believe that buying a pre-owned luxury car should be an exciting and rewarding experience, and we strive to make it just that.
Final Thoughts: The 2017 Mercedes AMG C63 - A Testament to Luxury and Performance
In the world of luxury sports sedans, the 2017 Mercedes AMG C63 holds its own. Its breathtaking performance, coupled with its stylish design and advanced features, make it a standout choice for those seeking a car that offers the best of both worlds.
Whether you're a speed enthusiast who craves the adrenaline rush of a high-performance car or a connoisseur of luxury who appreciates the finer things in life, the 2017 Mercedes AMG C63 is a car that deserves serious consideration.
From its handcrafted AMG 4.0L V8 biturbo engine to its plush interior and striking aesthetics, every aspect of the C63 AMG screams 'premium'. And while it comes with a price tag to match its status, the car delivers exceptional value for money.
If you're shopping for a pre-owned luxury car at TPT Foreign Sales, the 2017 Mercedes AMG C63 is one car you won't want to miss. It embodies the power, luxury, and prestige that our collection represents. At the end of the day, driving a 2017 Mercedes AMG C63 is more than just a journey; it's an experience – one that leaves a lasting impression.