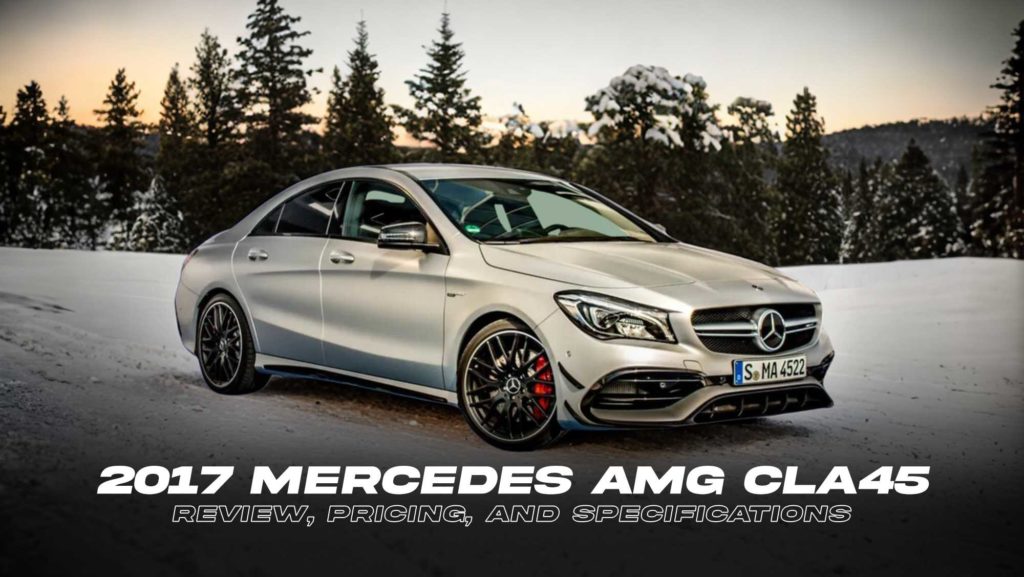 When you're in the market for a luxury car that packs a punch, it's hard to look past the 2017 Mercedes AMG CLA45. This review is your comprehensive guide to everything you need to know about this standout vehicle. We'll dive into the specifics of what makes this car so special, from its unique position within the Mercedes AMG lineup to its striking design and incredible performance capabilities. 
2017 Mercedes AMG CLA45 Overview
The 2017 Mercedes AMG CLA45 is a powerhouse in compact form. Falling under the Mercedes AMG banner, it offers a level of power and performance typically reserved for larger, more unwieldy vehicles. With its sporty design and advanced performance technologies, the CLA45 sets itself apart from the competition.
This car isn't just about power, though. The Mercedes AMG CLA45 is also designed with luxury in mind, offering a driving experience that's as comfortable as it is exhilarating. It's the perfect choice for driving enthusiasts who don't want to compromise on either power or luxury.
Engine: 2.0L turbocharged inline-4

Power: 375 hp @ 6000 rpm

Torque: 350 lb-ft @ 2250 rpm

Transmission: 7-speed dual-clutch automatic

Drive: All-wheel drive

0-60mph: 4.1 seconds

Top Speed: 155 mph (electronically limited)
2017 Mercedes AMG CLA45 Review
Ready to experience the thrill of German power? If you are in search of power and elegance, join us as we delve into our review of the 2017 Mercedes AMG CLA45, a car that's praised for its AMG-worthy power, sharp handling, and impressive performance.
Performance and Handling
Under the hood of the 2017 Mercedes AMG CLA45 lies a beast waiting to be unleashed. This car is powered by a 2.0-liter turbocharged inline-4 engine that delivers a whopping 375 horsepower and 350 lb-ft of torque. This translates into a blistering 0-60 mph time of just 4.1 seconds, putting many larger sports cars to shame.
But the CLA45 isn't just about straight-line speed. It also offers incredibly responsive handling, thanks to its AMG Performance 4MATIC all-wheel drive system and adaptive suspension. With various driving modes to choose from, you can tailor the car's performance to suit your driving style or the conditions on the road. Whether you're cruising along the highway or tackling tight corners on a country road, the CLA45 is always ready to deliver an exhilarating driving experience.
Interior and Comfort
Step inside the 2017 Mercedes AMG CLA45, and you're immediately enveloped in luxury. The cabin is beautifully crafted with high-quality materials and an ergonomic design that ensures every control is within easy reach. The seats are supportive and comfortable, making even long journeys a pleasure rather than a chore.
The advanced climate control system ensures the cabin remains at the perfect temperature, while the intuitive infotainment interface puts a world of entertainment and information at your fingertips. Despite its compact dimensions, the CLA45 also offers a surprising amount of legroom and cargo capacity, ensuring you and your passengers can travel in comfort and style.
Exterior Design and Styling
The 2017 Mercedes AMG CLA45 is a car that turns heads. Its sporty and aggressive aesthetics, coupled with the distinctive AMG styling elements, make it stand out on the road. The low, wide stance and bold lines hint at the power that lies beneath the hood, while the large air intakes and quad exhaust tips add a touch of aggression to the overall visual appeal.
Pricing and Value
Priced at $50,945 to start, the 2017 Mercedes AMG CLA45 sits at the higher end of the luxury small car market, yet presents a persuasive value-for-money proposition. It combines the prestige of the Mercedes-Benz badge with the performance credentials of the AMG sub-brand, all wrapped up in a compact and stylish package. Compared to competitors in the segment, the CLA45 offers more power, better handling, and a higher level of standard equipment.
Safety and Technology
The 2017 Mercedes AMG CLA45 comes packed with advanced safety features and technological innovations. From the comprehensive suite of driver assistance systems to the user-friendly infotainment system, this car is designed to keep you safe, connected, and entertained on the road. The technology integration is seamless, ensuring you can focus on the joy of driving while the car takes care of the rest.
Pros and Cons
The 2017 Mercedes AMG CLA45 has many strengths, including its powerful engine, luxurious interior, and high level of standard equipment. However, it's not without its potential drawbacks. Some may find the ride a bit firm, especially on rough roads, while others may wish for a bit more rear-seat legroom.
Key Considerations for Purchasing a Used 2017 Mercedes AMG CLA45
When you're in the market for a used 2017 Mercedes AMG CLA45, there are a few key things to keep in mind:
1. Check the Vehicle History Report: Before making any purchase, it's essential to check the vehicle's history report. This will provide you with important information about the car's past, including any accidents or damage, title history, and previous ownership.
2. Inspect the Car Thoroughly: Even if the vehicle looks perfect on the surface, there could be hidden issues that you can't see. It's always a good idea to have the car inspected by a professional mechanic before buying.
3. Test Drive: A test drive is an opportunity to see how the car performs on the road. Pay attention to how the car accelerates, brakes, and handles. Listen for any unusual noises and make sure all the features and controls work correctly.
4. Consider the Total Cost of Ownership: While the purchase price of the car is significant, don't forget to factor in the total cost of ownership. This includes insurance, maintenance, fuel, and potential repairs.
5. Negotiate: Don't be afraid to negotiate the price. Most sellers expect some negotiation, and you could save yourself a significant amount of money.
Buy - Sell 2017 Mercedes AMG CLA45
Interested in buying or selling a 2017 Mercedes AMG CLA45? You've come to the right place. At TPT Foreigns, we specialize in pre-owned luxury vehicles. We invite you to check out our current selection of high-quality, pre-owned luxury cars.
If you're considering selling your 2017 Mercedes AMG CLA45, we're here to help with that as well. Our team of experts will evaluate your vehicle and provide a fair offer based on its condition, mileage, and current market value.
Don't miss out on this opportunity to seamlessly buy or sell a luxury vehicle. Contact us today for more details.
Wrapping Up: Your Luxury Pre-Owned Vehicle Awaits
The 2017 Mercedes AMG CLA45 is a luxury compact car that offers high performance, sophisticated styling, and a host of advanced features. If you're considering buying one, remember to do your research, take your time, and use the tips above to ensure you get the best deal possible. Happy car shopping!
We've also compiled some frequently asked questions about the 2017 Mercedes AMG CLA45, including comparisons with the C63 models, fuel efficiency, customization options, maintenance costs, suitability for daily commuting, safety features, performance compared to competitors, color options, performance exhaust system availability, and known issues or recalls. Stay tuned for our detailed responses to these queries.
1. How does the 2017 Mercedes AMG CLA45 compare to the C63 models?
The CLA45 and C63 are both part of Mercedes-Benz's AMG performance lineup, but they're quite different cars. The CLA45 is a compact sedan with a 2.0L turbocharged four-cylinder engine that produces 375 horsepower, while the C63 is a larger, more powerful car with a 4.0L twin-turbo V8 engine that offers up to 503 horsepower in the C63 S model. The C63 also has a higher starting price than the CLA45.
2. What is the fuel efficiency of the 2017 Mercedes AMG CLA45?
The 2017 Mercedes AMG CLA45 has an EPA fuel economy rating of 23 mpg in the city and 30 mpg on the highway.
3. What customization options are available for the 2017 Mercedes AMG CLA45?
Mercedes-Benz offers a range of customization options for the CLA45, including various wheel designs, exterior colors, interior upholstery choices, and trim elements. There are also optional packages that add features like a panoramic sunroof, LED headlights, and a premium sound system.
4. How much does it cost to maintain a 2017 Mercedes AMG CLA45?
Maintenance costs can vary based on factors like mileage, location, and individual driving habits. However, as a luxury performance car, the CLA45 may have higher maintenance costs than a mainstream compact car. It's recommended to check with local Mercedes-Benz dealerships or service centers for specific information.
5. Is the 2017 Mercedes AMG CLA45 suitable for daily commuting?
Yes, the CLA45 can be a good choice for daily commuting. Its compact size makes it easy to maneuver in city traffic and park in tight spaces, while its powerful engine and sporty handling make highway driving enjoyable.
6. What safety features does the 2017 Mercedes AMG CLA45 have?
The 2017 CLA45 comes standard with a rearview camera, forward collision warning, automatic emergency braking, driver drowsiness monitoring, and rain-sensing windshield wipers. Optional safety features include blind spot monitoring, lane keep assist, and parking sensors.
7. How does the 2017 Mercedes AMG CLA45 perform compared to competitors?
The CLA45 is one of the most powerful cars in its class, with a 0-60 mph time of just 4.1 seconds. It also offers sporty handling and a high-quality interior. Competitors like the Audi S3 and BMW M2 offer similar performance, but the CLA45 stands out for its distinctive styling and higher horsepower.
8. What color options are available for the 2017 Mercedes AMG CLA45?
The 2017 CLA45 is available in several exterior colors, including Night Black, Cosmos Black, Mountain Grey, Polar Silver, Jupiter Red, Cirrus White, designo Polar Silver Magno, and designo Mountain Grey Magno.
9. Is a performance exhaust system available for the 2017 Mercedes AMG CLA45?
Yes, a performance exhaust system is available as an option on the 2017 CLA45. This system enhances the car's exhaust note and can be adjusted via the AMG DYNAMIC SELECT system.
10. Are there any known issues or recalls for the 2017 Mercedes AMG CLA45?
There have been no major recalls issued for the 2017 CLA45. However, like any used car, individual examples may have issues due to factors like maintenance history and previous usage. It's always a good idea to have a pre-purchase inspection conducted by a qualified mechanic.