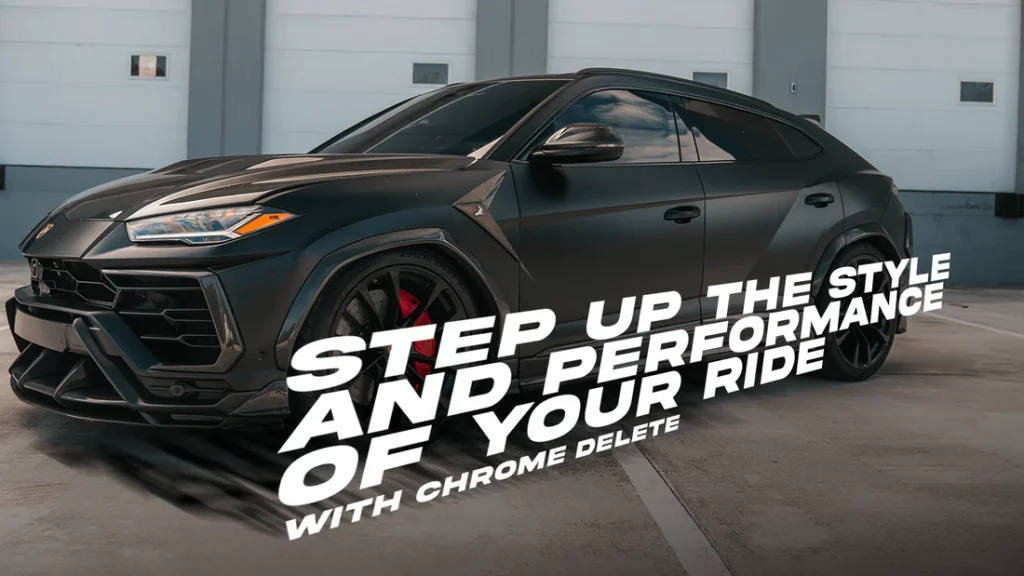 Since when did things like performance and style have to be mutually exclusive? In the world of luxury cars, that doesn't have to be the case. A proven way to spruce up the look of your car while also making it faster and sharper is to get a chrome delete. What's that, you say? Let's dive into what chrome delete is and why having it could be the perfect way to upgrade your hot ride.
What is a Chrome Delete?
Chrome delete is a process of using vinyl wraps to cover the chrome parts of a vehicle with alternative colors that are either flat or slightly glossy. The goal is to give the car a sleek and subtle look that can make heads turn as you speed down the highway. For example, if you have chrome along the side of your car, you could replace it with a matte black instead. Or, if your wheels are a bit too shiny, you could opt for a flat black or white to tone it down a bit. You get the picture – chrome delete is a great way to customize your car and make it stand out.
How Can a Chrome Delete Improve Aero?
Aerodynamics is the technology used to reduce drag and improve a vehicle's performance. By covering the chrome with matte wraps, you'll be able to not only limit drag, but also reduce the overall weight of your car. On top of that, the wraps will help to provide an even surface within the cockpit, minimizing any turbulence that could slow your ride down.
Choose the Look, Feel and Performance You Want
When you're ready to go ahead and upgrade, you'll want to decide on the look, texture and color of the vinyl wraps. You can even go the extra mile and customize the wraps with different colors, patterns and designs. Once you're all set, let TPT Foreigns in Miami install the chrome delete and get your car looking good and running fast.
At the end of the day, you don't have to sacrifice style for performance. A luxury car chrome delete is the perfect way to customize your ride and get improved aerodynamics at the same time. Give your car an edge in the style and performance department – it's never too late to get a chrome delete.
Try TPT Foreigns Stylish Chrome Delete Service in Miami
Does your luxury car just not have the same style or edge that it used to? Want to make sure it looks up-to-date, on-trend, and modern? Why not give your ride a little lift courtesy of TPT Foreigns chrome delete service? We specialize in chrome delete and other customization service in Miami that'll transform your luxury car into something truly spectacular to behold. It's a great way to completely overhaul your ride while maintaining its luxurious appeal. You'll be driving in style with all the latest trends. Get in touch with TPT Foreigns in Miami, and let us turn your boring everyday car into a truly unique, totally modern, and supremely stylish machine. Let us customize your foreign today!