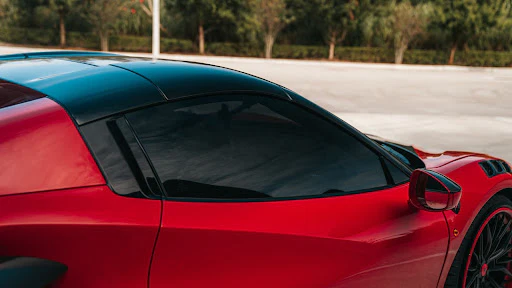 As any car enthusiast can tell you, a high-end luxury car is an investment. Not only do you get the amazing performance you're looking for, but you can also enjoy the luxurious features and amenities inside. But if you've just invested in a brand-new luxury car — congratulations! — then, it's time to start thinking about how to properly care for it. One of the best ways to do that is to invest in custom window tinting.
WHY YOU SHOULD CONSIDER CUSTOM WINDOW TINTING
Windows tinting is a great way to protect your car, both inside and out. Not only will it protect you and your passengers from the harsh UV rays of the sun, but it will also protect the car's interior upholstery from cracking, fading and discoloring over time. The added privacy that comes with window tinting can also give you extra peace of mind while you're out on the road. Moreover, let's face it– luxury cars look way cooler with a crisp, classy window tint installed.
Whether you're after some extra privacy or bragging rights, custom window tinting is the perfect way to boost your ride's style. But with all the technical know-how required to get the job done right, it can be intimidating to dive into. Don't stress! We've got you covered with this handy how-to guide. Read on for our top tips on custom window tinting for foreign cars.
1. CHOOSING THE RIGHT TINTING OPTION FOR YOUR CAR
When it comes to window tint, one size doesn't fit all. Depending on the make, model, and design of your foreign, you'll want to tailor your tinting choice to suit the specific needs of your ride.
If you often drive in bright, sunny locations, tint that blocks more UV rays may be the way to go. Meanwhile, if you primarily drive in low-light conditions, opt for a less intense tint that still complements the look of your ride. Additionally, if your car has individual windows, you may want to customize the shades for each for a unique result.
2. PICK A TINT THAT LASTS
No one wants to splurge on a new window tint just to have it peel off a few months later. You're investing in your ride, so be sure to pick a product made with quality materials that are designed to withstand the test of time. For added assurance, keep an eye out for manufacturers offering warranties or guarantees on their tinting products.
3. SEEK PROFESSIONAL INSTALLATION
Once you've selected your perfect window tint, it's time to get the job done right. While it may be tempting to attempt to DIY the installation process, there's no substitution for professional expertise. An experienced luxury auto detailing specialist in Miami, such as TPT Foreigns, can ensure that your window tint is applied evenly and securely, providing you with a quality-assured result. And sure, it may come at a cost, but trust us – spending the extra dollars on a pro-grade installation job is worth it.
4. DON'T FORGET MAINTENANCE
Now that you've taken all the necessary steps to ensure your ride looks sharp, you'll need to keep up with maintenance to make sure it stays that way. Regular window cleaning goes a long way. A quality window cleaner can help get rid of dust and dirt particles, while some mild soap and water can tackle more stubborn buildup. Additionally, you'll want to routinely check for signs of any damage – especially in extreme weather conditions – and replace the tint if needed.
Getting the perfect window tint for your luxury car is a rewarding experience. With the right shade, quality materials, and professional installation, your ride will look super slick with a classy custom tint. Keep these tips in mind, and you'll be driving in style in no time!
EXPERIENCE HIGH-END WINDOW TINTING IN MIAMI WITH TPT FOREIGNS
TPT Foreigns in Miami is changing the game when it comes to high-end window tinting services. Don't settle for poor-quality window tints when it comes to your cherished foreign car – Our window tinting services are designed to give your car the look it deserves. With shades available in various hues, you're sure to find exactly what you need to customize your car. Don't mess around with low-grade services in Miami – trust TPT Foreigns to get the job done right.