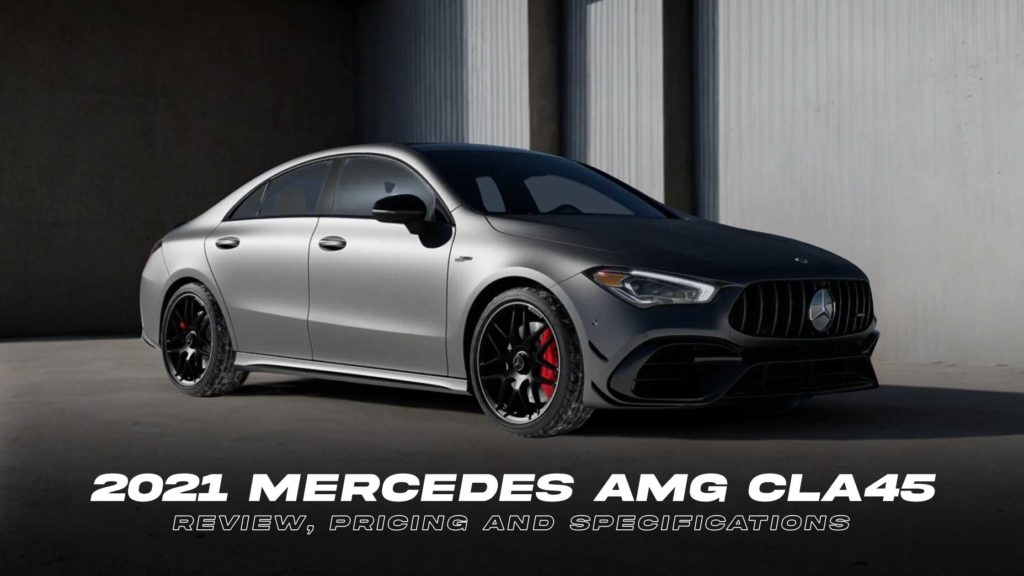 Imagine embarking on a search for the perfect blend of luxury, power, and style in a vehicle – a machine that not only meets your expectations but exceeds them in every way. Well, you've come to the right place. This article is your ultimate guide to understanding the 2022 Mercedes AMG CLA45, a car that beautifully encapsulates all these traits. 
We will explore key features, performance attributes, comfort, design, pricing, safety, technology, and more. Discover what makes the 2022 Mercedes AMG CLA45 a compelling choice for car enthusiasts.
The 2022 Mercedes AMG CLA45 is an epitome of a luxury sports sedan. Nestled comfortably within the prestigious Mercedes AMG lineup, this vehicle is a testament to high-quality German engineering, offering a unique blend of power, style, and luxury.
Key features that set the CLA45 apart are its sporty design elements and advanced performance technologies. The car's sleek lines, coupled with its aggressive stance, make it a head-turner on the road. Under the hood lies a powerhouse that promises exhilarating performance – a promise it effortlessly lives up to.
The 2022 Mercedes AMG CLA45 is designed for driving enthusiasts who seek both power and luxury. It delivers the thrill of a high-performance vehicle while ensuring the comfort and opulence synonymous with the Mercedes brand.
| | |
| --- | --- |
| Feature | Specification |
| Engine | AMG-enhanced 2.0L Inline-4 Turbo |
| Horsepower | 382 hp |
| Torque | 354 lb-ft |
| Transmission | AMG SPEEDSHIFT DCT 8-Speed |
| Drive Type | AMG Performance 4MATIC+ all-wheel drive |
| Fuel Economy (combined) | 23 mpg |
| 0-60 mph | 4.0 sec |
2022 Mercedes AMG CLA45 Review
Performance and Handling
The heart of the 2022 Mercedes AMG CLA45 is its AMG-enhanced 2.0L Inline-4 Turbo engine. This powerplant generates an impressive 382 horsepower and 354 lb-ft of torque, making it one of the most powerful four-cylinder engines in production today.
The CLA45's performance is nothing short of extraordinary. Its acceleration is swift and assertive, reaching 0-60 mph in a mere 4.0 seconds. The car's handling is responsive and precise, providing an engaging driving experience whether you're navigating city streets or winding country roads.
Contributing to its incredible performance are various driving modes and technologies. The AMG Performance 4MATIC+ all-wheel drive ensures optimum traction and stability, while the adaptive suspension adjusts the car's damping characteristics to match the road conditions and driving style. These features combine to deliver a driving experience that is truly exhilarating.
Interior and Comfort
The interior of the 2022 Mercedes AMG CLA45 is a showcase of luxury and craftsmanship. High-quality materials adorn the cabin, with attention to detail evident in every stitch and seam. The ergonomic design ensures that all controls are within easy reach, enhancing the overall driving experience.
Comfort features abound in the CLA45. The supportive seats are designed for long drives, while the advanced climate control system maintains an ideal cabin temperature. The intuitive infotainment interface offers seamless connectivity and entertainment options, adding to the car's appeal.
Despite its compact exterior dimensions, the CLA45 offers ample interior space. Both the legroom and cargo capacity are generous, ensuring that every journey is a comfortable one.
Exterior Design and Styling
The exterior design of the 2022 Mercedes AMG CLA45 is a visual treat. Its sporty and aggressive aesthetics are sure to catch the eye of any car enthusiast. The sleek silhouette, coupled with the distinctive AMG styling elements such as the unique grille, aerodynamic enhancements, and dual exhausts, give the car a dynamic and athletic appearance.
The CLA45's design is not just about looks, though. Every element serves a purpose, contributing to the car's performance and handling capabilities. The overall visual appeal of the car is undeniable, making it a standout on the road.
Pricing and Value Proposition
The 2022 Mercedes AMG CLA45 starts at $55,900. This price tag might seem steep for a compact sedan, but when you consider what the CLA45 brings to the table, it holds its own against competitors in the same segment.
With its impressive performance capabilities, luxurious appointments, advanced technology features, and distinctive styling, the CLA45 offers an exceptional value proposition. It's not just a car – it's an experience, a statement, and a lifestyle choice.
When compared to competitors like the Audi RS3 and BMW M2, the CLA45 strikes a balance between performance and luxury that is hard to match. The Mercedes badge also brings with it a certain prestige and assurance of quality, further enhancing the car's appeal.
Safety Features and Technology
Mercedes-Benz has always been at the forefront of automotive safety, and the 2022 Mercedes AMG CLA45 is no exception. It comes equipped with a host of safety features and technologies designed to protect you and your passengers.
Some of the key safety features include:
Active Brake Assist: This system can automatically apply the brakes to help prevent a collision or reduce its severity.

Attention Assist: This feature can detect signs of driver fatigue and suggest taking a break.

Adaptive Highbeam Assist: This system adjusts the high beams automatically to avoid dazzling other road users.

Blind Spot Assist: This feature alerts the driver if a vehicle is in the blind spot during a lane change.
In addition to these, the CLA45 is equipped with advanced airbag systems, stability control, and a range of other safety features designed to ensure a safe journey.
Pros and Cons of the 2022 Mercedes AMG CLA45
The 2022 Mercedes AMG CLA45, a luxury sedan that combines style and performance, has sparked interest among car enthusiasts. To help you understand if this model fits your needs, we'll delve into the key strengths and potential downsides of this vehicle.
The AMG CLA45 offers a robust performance and precise handling, making it a joy to drive even on challenging terrains.

Its interior is the epitome of luxury and comfort, with high-quality materials and a design that pampers passengers.

It comes equipped with advanced safety features and technologies, providing peace of mind for both the driver and passengers.

The distinctive and sporty design sets the AMG CLA45 apart, making it a head-turner on the road.
1. The premium pricing of the AMG CLA45, especially when adding optional extras, can make it a significant investment.
2. The coupe-like design, while stylish, limits rear headroom, which might be uncomfortable for taller passengers.
3. Despite its many strengths, fuel efficiency in the AMG CLA45 could be better, which might be a concern for those looking to minimize fuel costs.
Performance and Driving Experience
The 2022 Mercedes AMG CLA45 is powered by a 2.0-liter turbocharged four-cylinder engine that delivers an impressive 382 horsepower and 354 lb-ft of torque. Paired with an AMG SPEEDSHIFT DCT 8-Speed transmission and the AMG Performance 4MATIC all-wheel-drive system, the CLA45 delivers a thrilling driving experience.
The car's performance credentials are further enhanced by its AMG RIDE CONTROL Sport Suspension and high-performance braking system. Whether you're cruising on the highway, navigating city streets, or pushing the limits on a track, the CLA45 offers a responsive, agile, and exhilarating ride.
The cabin of the CLA45 is a blend of luxury and sportiness. The AMG Performance seats offer excellent support and comfort, while the AMG-specific controls and displays add to the sporty character of the car. The high-quality materials, meticulous craftsmanship, and attention to detail that Mercedes-Benz is known for are evident throughout the cabin.
Infotainment and Connectivity
The 2022 Mercedes AMG CLA45 is equipped with the latest Mercedes-Benz User Experience (MBUX) infotainment system. This includes a 10.25-inch touchscreen display, a touchpad controller, voice control, and steering wheel controls for easy and intuitive operation.
The system supports Apple CarPlay and Android Auto, allowing you to seamlessly integrate your smartphone for access to apps, music, navigation, and more. Other connectivity features include Bluetooth, USB ports, and wireless device charging.
The CLA45 also comes with a Burmester surround sound system, providing a rich and immersive listening experience.
1. What are the differences between the 2022 Mercedes AMG CLA45 and the C63 models?
The main difference between the two models lies in their size, powertrain, and performance. The CLA45 is a compact sedan powered by a 2.0-liter turbocharged four-cylinder engine, while the C63 is a midsize sedan that comes with a more powerful 4.0-liter V8 engine. The C63 also offers more interior space due to its larger size.
2. How does the fuel efficiency of the 2022 Mercedes AMG CLA45 compare to other luxury sedans?
The 2022 Mercedes AMG CLA45's fuel efficiency is competitive for its class. However, exact MPG figures can vary depending on driving conditions and habits. It's always best to refer to the official EPA ratings for the most accurate information.
3. Can the CLA45 be customized with additional features and options?
Yes, the CLA45 offers a variety of packages and standalone options for customization. These can include upgrades to the interior, exterior, infotainment system, and more. Please contact our sales team for more detailed information.
4. What is the maintenance cost for the 2022 Mercedes AMG CLA45?
Maintenance costs can vary based on usage, location, and service center rates. However, as a luxury performance vehicle, the CLA45 may have higher maintenance costs compared to more mainstream models.
5. Is the 2022 Mercedes AMG CLA45 suitable for daily commuting?
Absolutely. While the CLA45 is a high-performance vehicle, it's also designed with daily drivability in mind. It offers a comfortable ride, advanced technology features, and good fuel efficiency for a performance car.
6. Does the CLA45 offer advanced safety features and driver assistance systems?
Yes, the 2022 Mercedes AMG CLA45 comes equipped with a suite of advanced safety features and driver assistance systems. These may include adaptive cruise control, automatic emergency braking, lane-keeping assist, and more.
7. How does the CLA45's performance compare to its competitors in the same segment?
The CLA45 is one of the most powerful cars in its class, offering excellent performance compared to its competitors. Its precise handling, strong acceleration, and advanced all-wheel-drive system make it a standout in the compact luxury sport sedan segment.
8. Can the CLA45 be equipped with a performance exhaust system?
Yes, an AMG Performance Exhaust System is available as an optional feature for the CLA45. This system enhances the vehicle's sound and performance.
TPT Foreigns - Your Trusted Partner
At TPT Foreigns, we're more than just a new car dealership. We also specialize in the buying and selling of pre-owned luxury cars. Our carefully curated selection of used vehicles offers an affordable way to experience luxury and performance. Each vehicle in our pre-owned inventory undergoes a rigorous inspection to ensure it meets our high standards of quality and reliability.
We go beyond just selling cars and strive to provide a complete automotive experience. From guiding you through our extensive inventory to helping you choose the right vehicle based on your needs and preferences, we are committed to ensuring your satisfaction. Our top-notch after-sales services ensure that your relationship with us continues long after your purchase. Choose TPT Foreigns for your next car purchase and experience the difference for yourself.
2022 Mercedes AMG CLA45: Conclusion
The 2022 Mercedes AMG CLA45 is a compelling package that combines power, luxury, style, and advanced technology. Whether you're seeking thrilling performance or a comfortable and stylish ride, the CLA45 delivers on all fronts. While it does command a premium price, the value proposition is solid. If you're in the market for a compact luxury sports sedan, the CLA45 is worth exploring further.