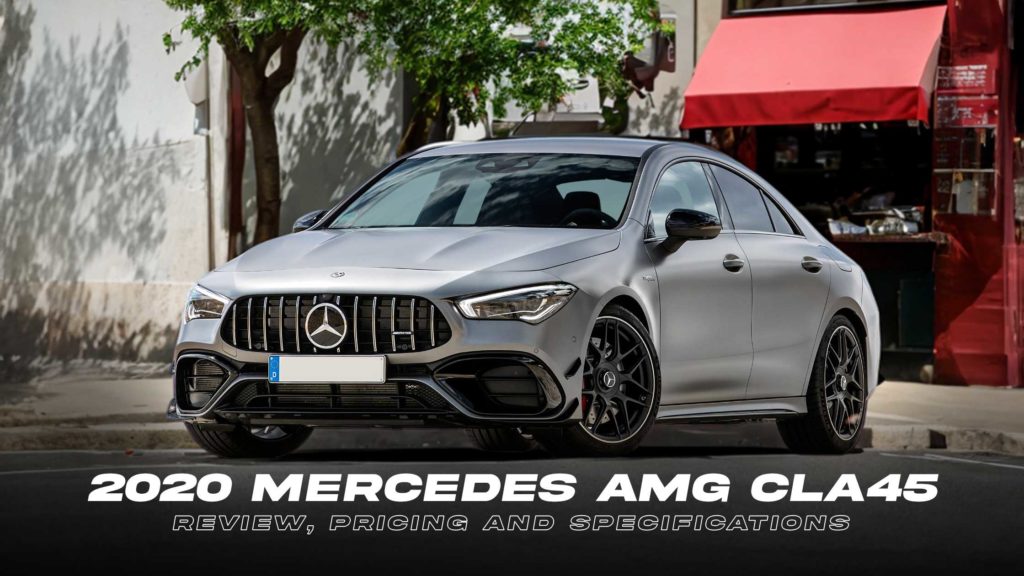 The 2020 Mercedes AMG CLA45, a vehicle that exemplifies the pinnacle of automotive design and performance, is not just another car. This model makes its presence felt on the streets with a flashier grille, wider front fenders, and additional aerodynamic features that set it apart from its sibling, the 2020 CLA35.
This guide will delve deep into the CLA45's various attributes – from its impressive aesthetics to its formidable performance. The car boasts a 2.0L twin-turbo engine delivering 382 hp @ 4,750-5,000 rpm and 354 lb-ft. Our objective is to provide you with all the essential details, helping you make an informed decision. For a comprehensive understanding of what the 2020 Mercedes AMG CLA45 has to offer, we encourage a meticulous review of each section in this guide.
The 2020 Mercedes AMG CLA45 is a marvel of German engineering, positioned as a compact luxury sedan within the esteemed AMG lineup. It's a car that seamlessly blends sporty design elements with advanced performance technologies. The CLA45 is designed for driving enthusiasts who crave not just power and speed but also the luxury and refinement that comes with the Mercedes-Benz brand.
Key features of the CLA45 include its aggressive AMG body styling, high-performance engine, and advanced driving technologies. These elements combine to create a driving experience that is both exhilarating and sophisticated.
Engine: 2.0L turbocharged inline-4

Power: 382 hp @ 6,500 rpm

Torque: 354 lb-ft @ 4,750 rpm

Transmission: 8-speed dual-clutch

Drivetrain: All-wheel drive

Fuel economy: 20/29 mpg (city/highway)
2020 Mercedes AMG CLA45 Review
At the heart of the 2020 Mercedes AMG CLA45 is a 2.0-liter turbocharged inline-four engine, a powerhouse that delivers a whopping 382 horsepower and 354 pound-feet of torque. This potent engine, paired with an 8-speed dual-clutch transmission, allows the CLA45 to deliver an exhilarating driving experience that few in its class can match.
The car's performance is further enhanced by the AMG Performance 4MATIC all-wheel-drive system, which provides excellent traction and handling in all conditions. The adaptive suspension system allows you to customize the ride quality to suit your driving style and road conditions, making every drive a unique experience.
Step inside the 2020 Mercedes AMG CLA45, and you're greeted by a cabin that exudes luxury and sophistication. High-quality materials are used throughout, with intricate detailing that underscores the car's premium positioning. The seats are supportive and comfortable, ensuring a pleasant ride even on long journeys.
The advanced climate control system ensures a comfortable environment, while the intuitive infotainment interface offers seamless connectivity and entertainment options. Despite its compact dimensions, the CLA45 offers generous legroom and ample cargo capacity, making it a practical choice for daily use as well as weekend getaways.
Exterior Design and Styling
The 2020 Mercedes AMG CLA45 is a head-turner, thanks to its sporty and aggressive aesthetics. The distinctive AMG styling elements, such as the unique grille, aerodynamic enhancements, and dual exhausts, add to the car's visual appeal. Whether parked or cruising on the highway, the CLA45 commands attention and admiration.
The 2020 Mercedes AMG CLA45 starts at a base price of $54,800, with additional options available for those who wish to customize their vehicle further. Considering its impressive performance, luxurious features, and the prestige associated with the Mercedes-Benz brand, the CLA45 offers excellent value for money. When compared to its competitors in the same segment, the CLA45 stands out for its superior performance and high-end features.
The 2020 Mercedes AMG CLA45 is a standout in safety, boasting an excellent crash rating and a plethora of protective features. It's equipped with multiple airbags, an occupancy sensor, and the eCall Emergency System for in-vehicle assistance. The car also features a stolen-vehicle tracking system, adjustable safety belts, and seatbelt pre-tensioners. Lighting is optimized with LED headlights, delay-off headlamps, and optional cornering lights for improved visibility. 
The technological innovations in the CLA45 are equally impressive. The infotainment system offers a range of connectivity options, while the driver assistance systems enhance driving ease and safety. The user-friendly interface ensures that you can access and control these features effortlessly, enhancing your overall driving experience.
Like any vehicle, the 2020 Mercedes AMG CLA45 has its strengths and potential drawbacks.
Pros:
Powerful Performance:

With a turbocharged engine delivering 382 horsepower, the CLA45 offers a thrilling driving experience that few cars in its class can match.

Luxurious Interior:

High-quality materials and a well-designed layout make the cabin a comfortable and pleasant place to be.

Advanced Technology:

The car is packed with high-tech features, including an intuitive infotainment system and advanced driver assistance systems.
Cons:
Limited Rear Seat Space:

While the front seats are spacious and comfortable, the rear seats might feel a bit cramped for taller passengers.

Fuel Efficiency:

Given its high-performance nature, the CLA45's fuel efficiency is not its strong suit.
Here are some commonly asked questions about the 2020 Mercedes AMG CLA45:
1. What are the differences between the CLA45 and C63 models? The CLA45 and C63 are both performance models from Mercedes-AMG, but they differ in size, power, and price. The CLA45 is a compact sedan with a 2.0L turbocharged inline-4 engine, while the C63 is a larger sedan with a more powerful V8 engine.
2. What is the fuel efficiency of the CLA45? The 2020 CLA45 gets an EPA-estimated 20 mpg in the city and 29 mpg on the highway.
3. Are there customization options for the CLA45? Yes, Mercedes-Benz offers a range of customization options for the CLA45, including different color schemes, wheel designs, interior trims, and additional packages for enhanced performance or comfort.
4. How much does it cost to maintain a CLA45? Maintenance costs can vary based on factors like mileage, location, and driving habits. However, as a luxury performance car, the CLA45 might have higher maintenance costs than an average sedan.
5. Is the CLA45 suitable for daily commuting? Yes, the CLA45 is a versatile car that performs well in various driving conditions, making it suitable for daily commuting as well as spirited drives.

6. What safety features does the CLA45 have? The CLA45 comes with several advanced safety features, including collision prevention assist, blind spot monitoring, and adaptive cruise control.

7. How does the CLA45 compare to its competitors in terms of performance? With its powerful engine and advanced driving technologies, the CLA45 delivers superior performance compared to many of its competitors in the compact luxury sedan segment.

8. What color options are available for the CLA45? The CLA45 is available in a range of colors, including Polar White, Night Black, Cosmos Black, Iridium Silver, Mountain Grey, Mojave Silver, Denim Blue, and Sun Yellow.
9. Does the CLA45 come with a performance exhaust system? Yes, the CLA45 comes with an AMG Performance Exhaust System as standard.
10. Are there any known issues or recalls for the CLA45? There have been no significant issues or recalls reported for the 2020 Mercedes AMG CLA45. However, it's always a good idea to check the latest recall information from the National Highway Traffic Safety Administration (NHTSA) before purchasing any vehicle.

TPT Foreigns Pre-Owned Exotic Car Collection
Experience the luxury you deserve with our range of pre-owned exotic cars. Each car in our inventory shines with quality, offering you a blend of comfort and power. From speedy sports cars to elegant sedans, our collection caters to all kinds of car enthusiasts.
Our team is here to guide you through our selection, helping you find a car that suits your lifestyle and taste perfectly. Take the first step towards owning a piece of luxury and explore our impressive inventory of pre-owned exotic cars at TPT Foreigns today.
Final Thoughts: The 2020 Mercedes AMG CLA45 - Performance Meets Luxury
The 2020 Mercedes AMG CLA45 is a remarkable blend of performance and luxury. It offers an exhilarating driving experience without compromising on comfort or sophistication. While it might have a few minor drawbacks, they are overshadowed by its numerous strengths.
If you're in the market for a high-performance luxury car, the CLA45 is worth serious consideration. Visit your local Mercedes-Benz dealership to experience it firsthand, and you might find it's exactly what you've been searching for.